"Compassion", is a work created during the" shelter in place" days of the pandemic. A time in which the citizens of the world shrugged to between having pity or compassion for their fellow humans. This film is the beginning of a larger work-in-progress for the stage.
KT COLLECTIVE joins American Dance Festival in the CREATIVE HEALING PARADE. On the lawns of Durham Trinity Ridge neighborhood, there will be over 70 artists performing. The artists will be masked and walking the route is not encouraged as we continue to practice social distancing. Artists will perform in 15 minute intervals, each performing twice during the parade hour.
On Saturday, October 3rd, 2020 from 5pm – 6pm, the Parade Welcome will begin at 3329 Rolling Hill Road, Durham, NC 27705. An opportunity to support the artists with a $5 donation by venmo, cash or credit card will be at the end of the route.
For more information visit the ADF website with the link below.
---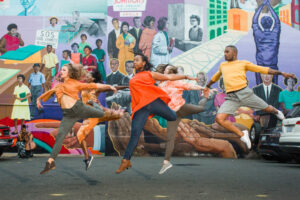 I am beyond grateful for this fabulously talented group of friends for this historical opportunity to create and present work for the Durham Civil Rights Mural, "Continuing to Tell".
Creating a work on most days in complete silence or with "Kristin sounds", rolling on the ground in parking lots, orchestrating at least 4 costume changes including shoes and then to hear the music for the first time once the performance begins. What a process, what a night, what a memory! Thank you KT COLLECTIVE.
Look forward to KT COLLECTIVE presenting "Continuing to Tell" in the near future. Excerpt to "Continuing to Tell"
Mark your calendars for #ddiArtAbout#thirdfridaydurham OCT 18 2019 | 5-8 PM | the parking lot by @durham_arts… 'Continuing to Tell, a performance event' … inspired by the Durham Civil Rights Mural by @bmillerholmes & amazing #durhamnc artists … from 5-7 PM help chalk-color-in a ground mural by @seewhydesigns that will set the stage for a 7 PM live music and dance performance by @shanatucker and @ktcollective! ? big thanks to @downtowndurham and @danceprojectinc for helping making it happen!! ? ✨ keep art as a lifestyle, y'all!! ✨ ? #processphotos with @zoelitakerphotography ?
---
KT COLLECTIVE Dance Company joins HELEN SIMONEAU DANSE for the company's 10th Anniversary Season, MOVING LANDMARKS. 
CONNECT. CREATE. GROW.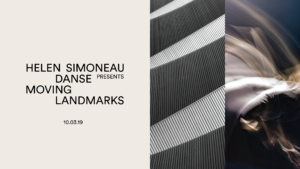 An evening of dance works by former and current company members featuring choreography by Kayla Farrish, Marielis Garcia, Kristin Taylor Duncan and an excerpt of Helen Simoneau's newest work DARLING.
Presented in collaboration with Incendiary Brewing Company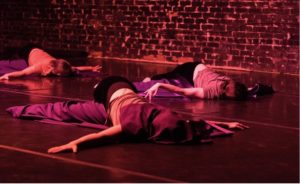 Thursday, Oct 3, 2019
8:30pm – 9:30pm
FREE – Winston-Salem, NC
Bailey Power Plant Coal Pit
Outside of Incendiary Brewery
Innovation Quarter
---
This season of KT COLLECTIVE was born from the world's current migration crisis and as I believe it to be, the migrate dreams. It is the strength of the body, the emotional layers of hope and the rhythm of those first steps that takes one into their dreams.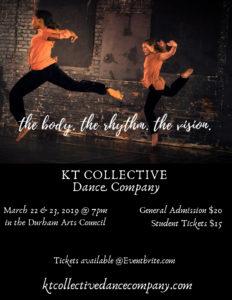 ---
On January 25, 2019 KT COLLECTIVE Dance Company will have the honor of performing in the Tribute to
Ernie Barnes
at the NC Museum of History. The company has been working on joyous and rhythm packed Jazz piece.
The museum will also host an event of artists, performers and poets in the January 26thevent is celebration of African American Heritage Month. Visit the website of the NC Museum of History to gather more information about the events of January 25 and 26, 2019.
---
Join us on January 1st, 2019 for a celebration of UNITY! KT COLLECTIVE is honored to perform in this year's KWANZAA Festivities
Bring your family and friends.
Doors open at 12pm with activities, vendors and performances.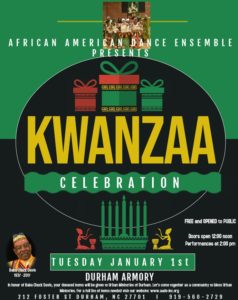 ---
It is exciting to announce that "Suddenly I See" has been selected for the NC Dance Festival 2018 – 2019 season. This September I will join fellow dancers and choreographers in Asheville, NC.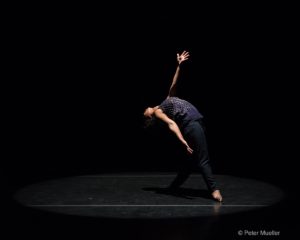 ---
I would like to thank you everyone that came out to support KTC this season for "the time is now". It's an honor to have the presence of those that have motivated, inspired and supported the company's growth and potential. We are beyond grateful.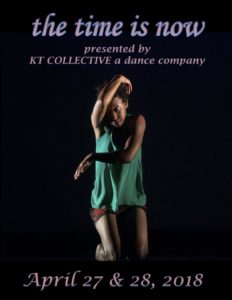 "The time is now", 
is an evening of dance that tackles the anxieties of life, 
embraces the light of motherhood and breathes through the joy of movement.
---
KT COLLECTIVE is performing in Wimmin@work2018. Please join us in recognizing Women's History Month.
wimmin@work2016 excerpts – 
wimmin@work is an interdisciplinary performance showcase by women of color.  It takes place during Women's history month at the Hayti Heritage Center but it is a timeless opportunity to celebrate contemporary women's history in the making.  Our creative vehicles are dance, music, literature, scholarship, poetry, song and more. The variety of performers is inter-generational and the common factor is a desire to recognize one another as artistic peers and to contribute to our communities. The foundation of how and why we do our work is acknowledging that we stand on the mighty and magnificent shoulders of women artists, educators, mentors, family and friends. Our work is a reflection of our communities and our histories.  Let's celebrate and share our creative endeavors in the way we do best, by being wimmin@work.
---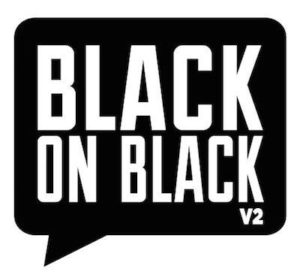 Join us for  BLACK ON BLACK V2 as it brings together artwork, performances and programs that provide comfort, support and inspiration as we navigate through our day-to-day.
We're seeing imagery that reminds us of Los Angeles in 1992, Tulsa in 1921 and Wilmington in 1898, and these incidents seem to show disregard for the lives of people of color. But we bounce back because there is tremendous strength within our community.
Contribute to the conversation: #BlackOnBlackVAE #BlackOnBlackV2#TheBlackOnBlackProject
**On view through November 25.
This project was supported by the North Carolina Arts Council, a division of the Department of Natural and Cultural Resources and also by the United Arts Council of Raleigh and Wake County, with funds from the United Arts Campaign and the North Carolina Arts Council, an agency funded by the state of North Carolina and the National Endowment for the arts.
VAE Raleigh is funded in part by the City of Raleigh based on recommendations of the Raleigh Arts Commission.
---
KT COLLECTIVE presents SOAR WITH CHRISTAL BROWN the first master class of the company's master class series for the 2016-2017 school year. The master class is offered to professional and pre-professional dancers 18 years and older. The class explores Contemporary movement followed by a meet and greet with Ms. Brown. (please click flyer to expand)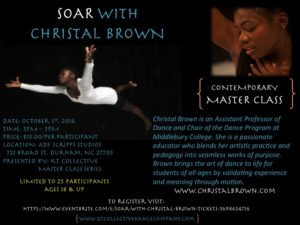 Christal Brown is an Assistant Professor of Dance and Chair of the Dance Program at   Middlebury College. She is a passionate educator who blends her artistic practice and pedagogy into seamless works of purpose.  Brown brings the art of dance to life for students of all ages by validating experience and meaning through motion.
Christal Brown is the Founder of INSPIRIT, Project: BECOMING, the creator of the Liquid Strength training module for dance and the Chair of Dance at Middlebury College.   Brown is a native of Kinston, North Carolina, where she remembers cleaning up on Saturday mornings as a child to the music of the Chi-Lites, Marvin Gaye, and Shirley Caesar.  These rituals innately produced a strong desire in her to make all work melodic, sensual, meaningful and set to music.  Brown has danced since she was released from the confines of piano lessons at age 9.  By navigating her way through narrow corridors of segregated understandings onto the stages of beautiful theaters, community centers, churches, classrooms, and cultural epiphanies, Brown has found the true meaning of grace.  Her path of self- discovery has been influenced by trailblazers such as Chuck Davis, Bill T. Jones, Andrea E. Woods, Liz Lerman, and Jawole Willa Jo Zollar.  Through these conduits of movement matter she was given the opportunity, permission, and responsibility to move and move others.  She is a mover, a warrior of change and transformation, living out experiences her double amputee father recounted from his war-ridden dreams.  The melodies in her body are melancholic and brought to life through the music; seen rather than heard through her choreography. Brown combines her athleticism, creativity, love for people, and passion for teaching to create works that redefine the art of dance and the structure of the field. 
---
KT COLLECTIVE is excited to join the Nasher Museum in celebrating their 10th Anniversary. The company will perform a new piece in response to the new mural painted by Odili Donald Odita. Downtown Durham YMCA, 218 W. Morgan St.

Join us for a downtown Durham block party to celebrate the Nasher Museum's first decade at Duke and in Durham. We will commemorate a new public art project, a mural painted by artist Odili Donald Odita on the Foster Street wall of the Downtown Durham YMCA. Local artists and community organizations will present artistic responses to the mural, including two works by Harrison Haynes and Kristin Taylor. Visitors can enjoy music, food trucks and accessible art making for kids by Zot Arts. The Art of Cool All-Star Band, led by Al Strong, will play a set followed by an open jam session with young people. The event culminates in a free screening of a documentary film about the mural directed by local filmmaker Anna Kipervaser. The temporary mural will be on view through 2017
---

Annual Company Season at Hanesbrand Theatre – March 4-6, 2015
"No dancer can match Kristin Taylor, Simoneau's senior company member, for purely joyful movement. In her self choreographed solo, "Suddenly I See," Taylor uses her powerful, compacted body to explore and carve her way through the space in curves and explosions. She too uses original music, this one composed by Shana Tucker."
– The Winston-Salem Journal
---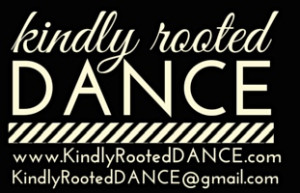 Natives of Durham, NC and childhood friends Allison R. Daniels and Kristin Taylor collaborate to create Kindly Rooted, a new dance work exploring how our ancestors influence who we are, what we believe and how we perceive others in the world.
Kindly Rooted will premiere on February 6 and 7, 2015 at Durham Arts Council's PSI Theatre at 7:30pm.
Inspired by our families, friends and relationships rooted in the Bull City Experience, Kindly Rooted came to us after a late night conversation about how others may draw conclusions about us, and us to them, based on the rudimentary- a name, an address, their appearance.
In merging images from the dancers and a live social media dialogue, we hope Kindly Rooted will spark conversations outside of the theatre.
---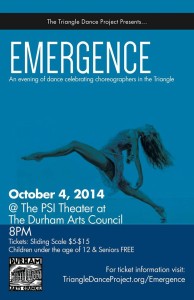 Lindsay Leonard and Courtney Owen Muir of KT COLLECTIVE will perform the duet "WOVEN" in the "Emergence" concert presented by Triangle Dance Project.